La fabrique des statistiques pénitentiaires : comment une enquête ethnographique peut éclairer une recherche économétrique
This article intends to relate a specific research experience in which ethnography complements an econometric work. First, I published some results based on prison statistics and relative to electronic monitoring and recidivism; then, I tried to find out how these figures were constructed on a daily basis inside prisons. I thus decided to lead some ethnographic observations inside two Parisians prisons, where I was able to witness the encoding process in the penal and correctional services. This article shows that there exists an important cognitive dissonance between prison warders, who never speak about the statistics they are constructing during their duties and are hardly aware of what is at stake, and members of the French Department of Prison, who use these data to publish official statistics. Ethnographic observations show in particular that sociodemographic variables are not properly filled by prison warders; these data should be treated with caution by econometricians.
Cet article entend témoigner d'une expérience de recherche originale où l'ethnographie est venue compléter un travail économétrique. À la suite de la publication de résultats fondés sur des statistiques pénitentiaires, je cherche à comprendre comment celles-ci sont construites au quotidien dans les prisons. Pour cela, je m'appuie sur des observations ethnographiques menées dans deux maisons d'arrêt de la région parisienne, où je peux assister à la saisie de données par les greffiers pénitentiaires et étudier la fabrication ordinaire du chiffre. Cet article montre qu'il existe une importante dissonance cognitive entre les agents, qui n'évoquent jamais l'enjeu statistique de leurs activités et n'y sont pas formés, et les membres de la Direction de l'administration pénitentiaire, qui s'appuient sur ces sources pour assoir leurs connaissances des personnes incarcérées. En particulier, les variables sociodémographiques sont marginalisées dans le processus de construction des statistiques pénitentiaires, et leur utilisation par l'économètre est sujette à caution.
Fichier principal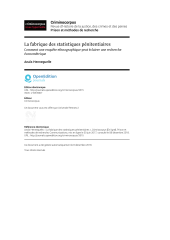 criminocorpus-3515.pdf (464.42 Ko)
Télécharger le fichier
Origin : Publisher files allowed on an open archive