Automutilations psychotiques : entre coupure et écriture
Acts of psychotic self-injury that occur in institutions often leave staff members at a loss and powerless when facing such instances involving the acting out of the body's "attacks" in the real. The caregivers have trouble making sense of such acts. It appears fundamental to question the background situation that triggers such an act with a thorough psychopathological study of the body's return of the real, as defined by modernity. Beyond this point, the clinical study of self-harm questions the idea of a body itself and the individual's relationship to the world, to the other. The author shows how the transition from cutting the body to a trace, a line, or even writing on the body can be an attempt to "knot together" the real, symbolic, and imaginary so as to place the body within its boundaries. These inscriptions of the real on the body are, in certain cases, to be considered as "auto-therapeutic" solutions with their calming effects for the patient.
Les automutilations psychotiques qui surgissent en institution laissent bien souvent les professionnels désemparés, impuissants face à ces passages à l'acte d'« attaque » du corps dans le réel, auxquels ils ne peuvent donner sens. Aussi, interroger les coordonnées du déclenchement de tels passages à l'acte s'avère nécessaire et nécessite un examen psychopathologique minutieux de ce qui se présente comme retour du réel du corps dans notre modernité. Au-delà, la clinique de l'automutilation interroge la notion même de corps et du rapport du sujet au monde, à l'autre. L'auteur démontre en quoi le passage de la coupure du corps, à la trace, au trait, voire à l'écriture, sur le corps sont autant de tentatives de « nouage » pour border, faire tenir le corps. Ces écritures du réel sur le corps sont dès lors, dans certains cas, à envisager comme solutions « autothérapeutiques » avec leur effet d'apaisement pour le sujet.
Fichier principal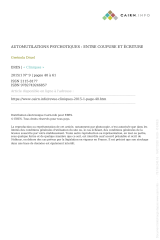 CLINI_009_0040.pdf (559.47 Ko)
Télécharger le fichier
Origin : Publisher files allowed on an open archive