Les actualisations d'un idéal théâtral au Théâtre du Peuple – Maurice Pottecher 
This article explores the connections between historic activity and the construction of a collective identity at the Théâtre du Peuple, a theatre enjoying a remarkable longevity since it is recognized as the oldest venture in popular theatre in France. By concentrating on the theatre's history since the death of its founder in 1960, it demonstrates how the figure of Maurice Pottecher has remained a permanent point of reference, at the same time as its mission has been the subject of various reinterpretations. They have allowed for the redefinition of the strong identity factors specific to this theatre, putting the emphasis on the audience rather than the repertoire and recalling the importance of its artistic dimension while insisting on the originality of this undertaking and its unique character. They in turn are associated with Maurice Pottecher's original insight and uphold the ideal that he defended : it enables the uniqueness of this theatre to be maintained in the field of current theatre and binds together the very diverse individuals who take part in this adventure.
Cet article explore les liens entre activité mémorielle et construction d'une identité collective au Théâtre du Peuple, théâtre reconnu comme la plus ancienne entreprise de théâtre populaire en France et faisant preuve d'une longévité remarquable. En se concentrant sur l'histoire du théâtre depuis le décès de son fondateur en 1960, il montre comment la figure de Maurice Pottecher est restée une référence permanente, en même temps que son projet a fait l'objet de diverses relectures. Celles-ci ont permis de redéfinir les éléments identitaires forts de ce lieu, remplaçant le répertoire par le public et rappelant l'importance de la dimension artistique, tout en insistant sur l'originalité de cette entreprise et son esprit si particulier. Ceux-ci sont associés à l'intuition originelle de Maurice Pottecher et l'idéal qu'il a défendu reste revendiqué : il permet le maintien de la singularité de ce théâtre dans le champ théâtral actuel et soude ceux, très divers, qui prennent part à cette aventure.
Fichier principal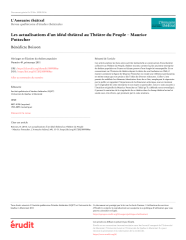 1009300ar.pdf (292.41 Ko)
Télécharger le fichier
Origin : Publisher files allowed on an open archive