Between pandemic and pan-Islamism. Colonial imagination of the pilgrimage to Mecca (1866-1914)
Entre pandemia y panislamismo. El imaginario colonial de la peregrinación a La Meca (1866-1914)
Entre pandémie et panislamisme
Despues de la epidemia de cólera de 1865, los Lugares Santos del islam son identificados como uno de los fogones de propagación del cólera que directamente amenazan Europa. No podemos sin embargo comprender la violencia de la reacción de los imperios y el descrédito entonces puesto sobre la peregrinación a La Meca (hajj) sin referirnos a los numerosos "relatos de contagio" que circulan entonces, asimilando el Islam a una forma de contagio. Al mismo tiempo que tiende a transformar a los peregrinos pobres, sean éstos Indios o Argelinos, en "grupos de riesgo", este imaginario colonial del hajj provocó, hasta la Primera Guerra Mundial, las medidas más extremas de protección, entre las cuales el ejemplo más manifiesto es el de la Argelia colonial.
After the 1865 cholera epidemic, the Holy places of Islam were identified as a source of the spreading of cholera that directly threatens Europe. However, we cannot understand the violence of the reaction of the empires and the depreciation cast on the pilgrimage to Mecca (hajj) without referring to the numerous "contamination narratives" that circulated then, likening Islam to contagion. As it tends to turn destitute pilgrims, may they be Indians or Algerians, into "risk groups", this colonial imagination of the hajj prompted, until the Great War, the most extreme protective measures, the most obvious example being that of colonial Algeria.
Suite à l'épidémie de choléra de 1865, les lieux saints de l'islam sont identifiés comme l'un des foyers de propagation du choléra qui menacent directement l'Europe. On ne peut cependant comprendre la violence de la réaction des empires et le discrédit alors jeté sur le pèlerinage à La Mecque (hajj) sans se référer aux nombreux « récits de contagion » qui circulent à cette époque, assimilant l'islam à une forme de contagion. En même temps qu'il tend à transformer les pèlerins pauvres, qu'ils soient indiens ou algériens, en « groupes à risque », cet imaginaire colonial du hajj a provoqué, jusqu'à la Grande Guerre, les mesures de protection les plus extrêmes et dont l'exemple le plus manifeste reste celui de l'Algérie coloniale.
Fichier principal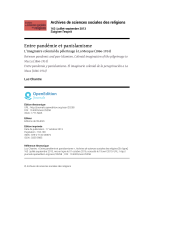 assr-25258.pdf (270.35 Ko)
Télécharger le fichier
Origin : Publisher files allowed on an open archive