Diffusion des documents et données environnementales au regard de leur statut juridique. Le cas du Conservatoire botanique national de Brest",
Distribution of environmental documents and data according to their legal status: The case of the National Botanic Conservatory of Brest To transmit information in a legal way is not simple due to the multiplicity of legal texts concerning information and data. We present here the legal context for a public institution, with concrete examples applied to the National Botanic Conservatory of Brest. We work on environmental data, which can be massive or not, and in both cases legal constraints are the same. Public institutions are more and more encouraged to make their data available on the Internet, but they do not have the possibility to know what they can do to legally share this data. We introduce here, with the case of the National Botanic Conservatory of Brest, the rights and duties of public institutions in terms of communication and broadcasting of information whatever its form: documents, data,...
La mise à disposition des informations dans un cadre légal n'est pas facile à appréhender du fait de la multiplicité des textes concernant celle-ci. Nous présentons ici le contexte juridique pour un établissement public, avec des exemples concrets qui s'appliquent au Conservatoire botanique national de Brest (CBN de Brest). Nous nous intéressons aux données environnementales. Qu'elles soient massives ou non, les contraintes légales sont les mêmes. Les services publics sont incités de plus en plus fortement à mettre à disposition leurs données sur Internet et ils n'ont pas toujours les moyens d'appréhender à leur juste valeur les obligations et implications juridiques qu'une diffusion massive des données impose. Nous présentons ici avec un cas concret, celui du CBN de Brest, les droits et devoirs d'un établissement public en termes de communication et de diffusion de ses informations quelle qu'en soit la forme : document numériques, données brutes, ...
Fichier principal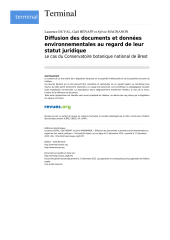 terminal-1075-117-diffusion-des-documents-et-donnees-environnementales-au-regard-de-leur-statut-juridique.pdf (149.35 Ko)
Télécharger le fichier
Origin : Publisher files allowed on an open archive