Royal triumphs in the Entries ceremonies from Toulouse during the sixteenth and seventeenth centuries
Triunfos reales en las entradas de Toulouse en los siglos xvi y xvii.
Triomphes royaux dans les Entrées toulousaines des xvie et xviie siècles
The Royal Entry was a favored ritual of the Monarchy from the end of Middle-Ages to the 17th century. It was an opportunity for the King to show himself in his best light and to present his sacred being to the visited City, which, in turn, was organized into a hierarchy and united by allegiance. Indeed, the town councilors also strived to defend their city's privileges. Therefore, this rare and fleeting event was a subtle face to face expressed through a rich iconographic program. Toulouse, capital of the Languedoc region, was often visited by its sovereigns for whom ephemeral settings were conceived. During periods of religious turmoil, Royal Entries were made in 1565 for Charles IX and in 1621 for Louis XIII. These are examined here in order to evaluate the evolution of this face-off between King and city. This paper will also put into national context Toulouse's customs. Indeed, from the end of the 16th century to mid-17th century, royal celebrations were undergoing radical transformations.
La entrada real fue un ritual monárquico privilegiado desde finales de la Edad Media hasta el siglo xvii. Era la ocasión, para la ciudad, de contemplar la « cara sagrada » del rey y de mostrar lo mejor de sí misma, o sea presentarse jerarquizada y unificada en su juramento de fidelidad al monarca. Los ediles organizadores se dedicaron también a defender los privilegios de la ciudad. Así este evento, raro y efímero, era el instante de un cara a cara sutil expresado por un programa iconográfico denso. Toulouse, capital del Languedoc, a menudo fue visitada por los reyes. Los decorados realizados, en un mismo contexto de agitación religiosa, para las entradas de Charles IX, en 1565, y de Louis XIII, en 1621, se estudian con el fin de estimar la evolución de esta confrontación entre la ciudad y el monarca, y de situar los procedimientos tolosanos en un contexto nacional de celebración del rey en plena mutación desde finales del siglo xvi hasta la mitad del siglo xvii.
L'entrée royale fut un rituel monarchique privilégié de la fin du Moyen-âge au xviie siècle. Elle était l'occasion pour la ville de voir la « face sacrée » du roi et de se présenter sous son meilleur jour : hiérarchisée et unifiée dans son allégeance. Les édiles organisateurs s'attachaient également à défendre les privilèges de la ville. Ainsi, cet événement, rare et éphémère, était-il l'instant d'un face à face subtil exprimé à travers un programme iconographique dense. Toulouse, capitale du Languedoc, fut souvent visitée par ses souverains. Les décors réalisés, dans un même contexte de troubles religieux, lors des entrées de Charles IX en 1565 et de Louis XIII en 1621, sont étudiés afin d'évaluer l'évolution de ce face à face entre la ville et son roi et de replacer les pratiques toulousaines dans un contexte national de célébration du souverain en pleine mutation de la fin du xvie au milieu du xviie siècle
Fichier principal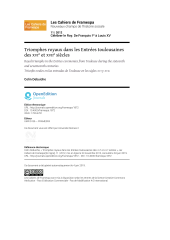 framespa-1872.pdf (1.14 Mo)
Télécharger le fichier
Origin : Publisher files allowed on an open archive