Künstlermanifeste suchen ihre Kunsthistoriker
Artistic Manifestos in Search of Art Historians
Los manifiestos artísticos en busca de historiadores de arte
Les manifestes artistiques en quête d'historiens de l'art
I manifesti artistici in cerca di storici dell'arte
Ausgehend von der Videoinstallation Manifesto des deutschen Künstlers Julian Rosenfeld, die 2016 in Berlin zu sehen war, versucht der Artikel den Begriff des Manifestes in der Zweideutigkeit seiner Anwendungsbereiche zu erfassen: als künstlerisches Material und als Forschungsgegenstand. Jüngere Studien, vor allem aus dem französisch- und deutschsprachigen Raum, zeugen von dem Bestreben den Korpus der seit der zweiten Hälfte des 20. Jahrhunderts verfassten Manifeste in den Bereichen der bildenden Künsten, der Literatur, des Tanzes, des Films sowie der neuen Medien auszuweiten. Somit wird der Weg für eine epistemologische, teils auch subjektive Öffnung bereitet – ebenso wird auf ältere Debatten eingegangen, deren Kriterien maßgeblich von den Literaturwissenschaften vorgegeben worden waren. Wenngleich die Kunstgeschichte lange Zeit auch unbeteiligt an diesen Debatten geblieben ist, so könnte sie sich als hilfreich für die Überwindung solcher Diskurse erweisen, die hauptsächlich um eine Legitimation der Manifeste als Forschungsgegenstand bemüht sind ; erklärtes Ziel ist es dabei, durch die Untersuchung der plastischen wie auch der historischen Eigenschaften innerhalb einer umfassenderen Sozialgeschichte einen fruchtbaren Beitrag zum interdisziplinären Dialog zu leisten.
Starting from Manifesto, the 2016 Berlin video installation by the German artist Julian Rosefeldt, this article seeks to examine the manifesto in its double aspect: as artistic material and as an object of research. Recent studies, mainly French- and German-language, show a desire to enlarge the corpus of manifestos produced since the second half of the twentieth century in the fields of visual arts, literature, dance, cinema, as well as the new media. In so doing, these studies propose, on the one hand, subjective epistemological approaches, while at the same time reiterating earlier debates – dominated by literary studies – on the criteria of definition. While absent from these debates for a long period, art history could allow us to go beyond these legitimization discourses around the manifesto as an object of study, in order to nourish multidisciplinary dialogue through an analysis of its visual and historical aspects within a wider social history.
Partiendo de Manifesto, videoinstalación del artista alemán Julian Rosefeldt, expuesta en Berlín en 2016, este artículo busca situar el manifiesto en su doble empleo: en tanto que material artístico y en tanto que objeto de estudios. Los estudios recientes, sobre todo franco alemanes, dan testimonio de una voluntad de enriquecer los corpus sobre manifiestos producidos desde la segunda mitad del siglo xx en los dominios de las artes plásticas, de la literatura, de la danza, del cine, e incluso de los nuevos medios. Estos estudios proponen caminos epistemológicos, a veces subjetivos, que no obstante reiteran debates más clásicos, aquellos dominados por los estudios literarios y por el análisis de los criterios de definición de un manifiesto. Ausente durante mucho tiempo en estos debates, la historia del arte podría permitir sobrepasar estos discursos de legitimación del manifiesto como un objeto de estudio y nutrir el diálogo pluridisciplinario con los análisis de sus problemas plásticos e históricos en el seno de una historia social más vasta.
En partant de l'installation vidéo Manifesto de l'artiste allemand Julian Rosefeldt, exposée en 2016 à Berlin, cet article cherche à situer le manifeste dans son double emploi : en tant que matériau artistique et en tant qu'objet de recherche. Les études récentes, surtout franco- et germanophones, témoignent d'une volonté d'enrichir les corpus de manifestes produits depuis la seconde moitié du xxe siècle dans les domaines des arts plastiques, de la littérature, de la danse, du cinéma, voire des nouveaux médias. Ce faisant, elles proposent des ouvertures épistémologiques parfois subjectives, tout en réitérant les débats plus anciens, dominés par les études littéraires, sur les critères de définition. Demeurée longtemps absente de ces débats, l'histoire de l'art pourrait permettre de dépasser ces discours de légitimation du manifeste comme objet d'étude, afin de nourrir le dialogue pluridisciplinaire par l'analyse de ses enjeux plastiques et historiques au sein d'une histoire sociale plus vaste.
Partendo dalla video installazione Manifesto dell'artista tedesco Julian Rosefeldt, esposta nel 2016 a Berlino, questo articolo cerca di situare il manifesto in relazione al suo doppio uso: come materiale artistico e come oggetto di ricerca. Gli studi recenti, soprattutto di lingua francese e tedesca, mostrano la volontà di arricchire i corpus dei manifesti prodotti a partire dalla seconda metà del xx secolo negli ambiti delle arti plastiche, della letteratura, della danza, del cinema e perfino dei nuovi media. In questo modo, essi propongono delle aperture epistemologiche a volte soggettive, reiterando allo stesso tempo i dibattiti più antichi, dominati dagli studi letterari, sui criteri di definizione. Rimasta a lungo assente da questi dibattiti, la storia dell'arte potrebbe permettere di superare questi discorsi di legittimazione del manifesto come oggetto di studio, al fine di nutrire il dialogo pluridisciplinare grazie all'analisi delle sue sfide plastiche e storiche all'interno di una storia sociale più vasta.
Fichier principal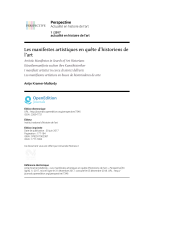 perspective-7346.pdf (474.66 Ko)
Télécharger le fichier
Origin : Publisher files allowed on an open archive