Social finance and social economy in Romania. A 'proximities' Issue for the regionalisation process of a west european country in transition?
Les finances solidaires et l'économie sociale en roumanie: une réponse de «proximités» à la régionalisation d'une économie en transition?
Rumänien scheint ein einzigartiges Experimentierfeld für Sozialwirtschaft in den zentralen und östlichen L¨andern der EU zu sein. Es ist tats ¨ achlich so, dass Rum¨anien versucht, mit seinen genossenschaftlichen Unternehmen und seinen Non Profit-Organisationen ein sozial-basiertes Wirtschaftsmodell zu entwickeln. In seinem sozialen und ¨okonomischen Transformationsprozess erscheint Rum¨anien als ein Land, in dem das ¨ortlich verankerte Bankensystem sich mehr und mehr aus Mikrofinanzinstituten zusammensetzt. Mit dieser Untersuchung sollen die F¨ ahigkeiten sozial-basierter Finanzwirtschaft aufgezeigt werden, eine ¨ortliche sozial-basierte nachhaltige Entwicklung einzuleiten. Das bedeutet, sich an der Spitze eines neuen human ausgerichteten Entwicklungsmodells zu befinden, bei dem Menschenw¨ urde und menschliche F¨ ahigkeiten die Schwerpunkte eines neuen konvivialen Wirtschaftsmodells sind.
Romania seems to be a singular experimented space in the Central andOriental Countries for Social Economy in the EU. Indeed, Romania tries to develop a social-base economic model through its cooperative-based firms and its Not-For-Profit Organizations. In its social and economic transition process, Romania appears like a country where its local-based banking system is concerned more and more with the microfinance institutes. This paper wants to show the capabilities from socialbased finance to work about a local social-based sustainable development. That means that we are in front of a new human side model of development, where human dignity and capabilities are the main issues for a new convivialism model.
Ruman´ıa se presenta en Europa central y oriental como un territorio de experimentaci´on, como una forma particular de econom´ıa social ligada a las cooperativas y a las organizaciones sin ´animo de lucro. En transici´on econ´omica y social, Ruman´ıa es igualmente un pa´ıs en transici´on territorial, cuyos sistemas de financiaci´on local han abandonado su enfoque de planificaci´on central, para asimilarse a un sector financiero solidario en el que los actores principales son los Institutos de Microfinanzas (IMF). La cuesti´on a la que trata de dar respuesta este art´ıculo es la relativa al papel de la financiaci´on solidaria local en la sostenibilidad de las transiciones socioecon´omicas territoriales en curso. Se trata de considerar una econom´ıa humana en el seno de la cual las condiciones de vida digna nos lleven a proyectar un modelo particular de econom´ıa, concebido a partir de herramientas tales como las finanzas solidarias locales.
La Roumanie apparaît en Europe centrale et orientale comme un territoire d'expérimentation d'une forme particulière d'économie sociale liant coopératives et organisations «not‐for‐profit». En transition économique et sociale, la Roumanie est également un pays en transition territoriale dont les systèmes de financements locaux ont quitté leur approche centralement planifiée, pour rejoindre un secteur financier solidaire dont les Instituts de Microfinance (IMFs) sont les principaux acteurs. La question à laquelle cet article tente d'apporter quelques éléments de réponse est celle du rôle de la finance solidaire locale dans la soutenabilité des transitions socio‐économiques territoriales en cours. Il s'agit d'envisager une économie humaine au sein de laquelle les conditions dignes de vie, nous amène à envisager un modèle particulier d'économie conviviale située à partir des outils conviviaux des finances solidaires locales.
Fichier principal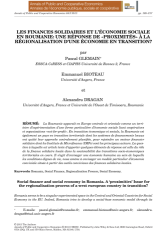 apce.12009(1).pdf (244.26 Ko)
Télécharger le fichier
Origin : Publisher files allowed on an open archive