Les déterminants de la syndication avec les Business Angels dans les opérations d'Equity Crowdfunding : le cas français
In order to support the industrial and entrepreneurial dynamics of territories, the financing of the innovation represents one of the major objectives of the local, national and European public authorities. In many countries, the Equity Crowdfunding (ECF) enables non accredited investors (the crowd) investing in projects or unlisted firms through an internet platform. This way of financing takes up an increasing place in the financing of innovative projects in an entrepreneurial situation. Within this context, we wish to investigate the following problem: what are the causes of the choice made by ECF platforms to implement a syndication strategy between the crowd and Business Angels (BA)? Our aim is to give an outline of an explanatory model of syndication strategies between the crowd and BA within ECF financing. Thereafter, it will be necessary to test the different proposals. The literature about the reasons of syndication within private equity deals and new questions induced by ECF development permit to put forward future research directions. Moreover, ECF platforms in France have been developed within a specific regulation aiming to facilitate its establishment. We describe practices of the main french ECF platforms and suggest future empirical analyses.
Le financement de l'innovation constitue l'un des objectifs majeurs des autorités publiques locales, nationales et européennes, pour soutenir la dynamique industrielle et entrepreneuriale des territoires. Dans de nombreux pays, l'Equity Crowdfunding (ECF) consiste à permettre à des investisseurs non professionnels (la foule) d'investir dans des projets ou des entreprises non cotées via une plateforme internet. Ce mode de financement occupe une place croissante dans le financement des projets innovants en situation entrepreneuriale. Dans ce contexte, nous désirons apporter des éléments de réponse à la problématique suivante : quels sont les déterminants de la mise en place de stratégies de coinvestissement par les plateformes d'ECF entre des individus, représentant « la foule » et les Business Angels (BA) ? Notre objectif est de donner une esquisse d'un modèle explicatif des stratégies de co-investissement « foule-BA » en ECF. Il conviendra, par la suite, de tester sur le terrain les hypothèses avancées. La littérature sur les motifs de la syndication dans les opérations de capital-investissement et celle relative aux nouveaux questionnements induits par le développement de l'ECF permettent de proposer des pistes de recherche future. De plus, l'étude des pratiques des plateformes d'ECF françaises qui se sont développées dans un cadre légal et réglementaire adapté, permet de décrire les pratiques de syndication actuellement observées et de proposer des pistes pour de futures études empiriques.
Fichier principal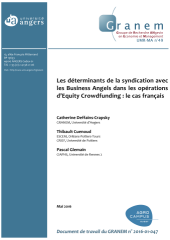 DT_GRANEM_01_047.pdf (245.05 Ko)
Télécharger le fichier
Origin : Publisher files allowed on an open archive